#1 Home Builders in Maryland
BUILDING A HOME IN MARYLAND
Decatur Building Services offers award-winning service, excellent design, and proven experience with every project. We have built over 400 homes and are proud to have been inducted into the "Master Builder Society" for exceptional performance in quality and cost controls, outstanding customer service, and volume of units constructed.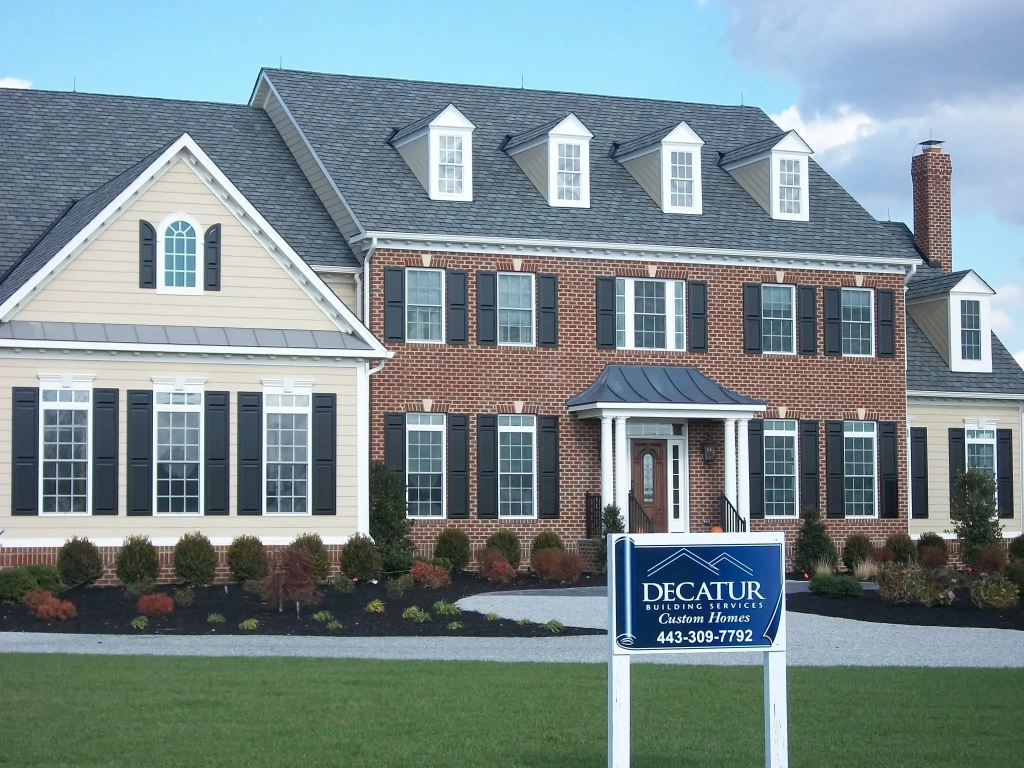 HOMES BUILT WITH INTEGRITY
Are you on the hunt for the best custom home builders in Howard County, Maryland? You're in the right place with us! If you are planning the home of your dreams, you want it built right. You want the best materials, workmanship, and attention to detail at an affordable price.
As a top custom home builder in Maryland, we will design and build your home right and on time. We employ only the highest quality materials and skilled craftsmen to guarantee that your home is built with precision and durability. Ten years from now, you will still be proud of your family's home. Contact us today and find out how we can help you with all of your home construction needs. We offer a free consultation and give free quotes swiftly.
Your real estate is likely your biggest investment, and you deserve to have a trusted partner that gets it right. That's why we go above and beyond to show you that we can be relied on to oversee every aspect of your home from start to finish. We have a proven track record and a bounty of satisfied customers who would recommend us to anyone looking to build new construction homes in Maryland.
Home is where the heart is — which is why we put our heart into every project. Our team strives for perfection in every detail, from design to construction and completion. With 35 years of experience under our belt, we are well-versed in the art of building houses from scratch. Everything is customized to your taste and budget. Let us help you turn your dream of building a beautiful home into a reality.
PREMIER MARYLAND CUSTOM HOME BUILDERS
Build On Your Lot
Do you already own a lot for your custom home in Maryland? Then, it's time to build your dream home on your property with Decatur Building Services. All you need to do is contact us for a free site evaluation.

Site Selection and Cost to Build
If you don't own a lot yet, don't worry. As building experts, we know Maryland's neighborhoods and zoning laws. We will assist you in finding the perfect home site and building your custom home within your budget.
OUR STRATEGIC APPROACH TO BUILDING YOUR DREAM HOME
From start to finish, the process can often be overwhelming. We take care of every step of the building process, so all you have to do is enjoy the result. You simply tell us what you envision, our designers draft it, you approve it, and our highly trained team builds it.
Plan
We firmly believe that a great design starts with clear goals. As your partner, we will sit down with you to discuss your vision and expectations and learn more about you and your home goals. We will establish your project's scope, budget, and time frame here. Together, we will ensure your custom home is built efficiently and effectively, and you know exactly how much it will cost to build.
Build
Once you find a design that fits both your style and budget, we begin with the building process to bring your vision to life. We collaborate with local authorities and handle all the paperwork like applying for permits, coordinating the site development plans, and construction management, so you can just sit back, relax, and enjoy the progress!
A cutting-edge team of professional carpenters and tradesmen come together to exceed your expectations. We will keep you informed and in the loop about the progress of your project.
IMAGINE YOURSELF IN ONE OF MARYLAND'S LUXURY HOMES
When you decide you are ready to build your dream house, the wide range of options can be quite overwhelming. However, our portfolio can give you the inspiration to choose the best custom model for your taste and style. Working together, we will come up with the perfect design for your space.
From a well-built bungalow to a two-story spacious house and a home with exceptional features, you too can truly own a luxurious home with the help of Decatur Building Services. Thanks to the customization of our house designs, you can choose from a range of options: glass windows to let the sunlight in, high-tech insulation for energy efficiency, and tough materials for durability.
After enough planning with our experienced team, you can have your home built or remodeled according to your exact vision.
WHY CHOOSE US TO BUILD YOUR HOME
Building and remodeling homes are our passions, and we take pride in our quality craftsmanship, the cutting-edge features we include in every home, and the client relationships we build with you. While we are known for our award-winning design and long-lasting structure, we have the experience to help you manage your budget and project timeline to ensure you get exactly what you want.
Our promise to you is a five-star experience.
Here's why we are the most sought-after company for custom homes in Maryland:
Commitment to high standard workmanship and customer service
A dedicated team and a site manager to oversee the construction process
Working around your requirements and within your budget
An eye for every detail and strive for perfection
Customization and flexibility to suit your special needs
Meticulous approach when delivering our services